2015 NYC MARATHON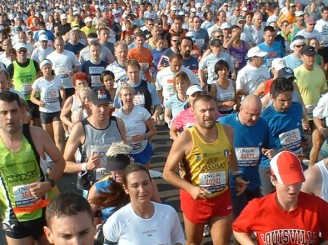 American Friends of Beit Issie Shapiro is running in the 2015 New York City Marathon.
American Friends of Beit Issie Shapiro is one of over 250 non-profit organizations selected by New York Road Runners as a participating charity in the 2015 New York City Marathon. We have been provided with several guaranteed entries in the Marathon as a way to raise funds and also through further fundraising efforts from the runners and their supporters.
Our participation in the 2014 Marathon was a success thanks to the efforts of our TEAM AFOBIS runners who helped us raise over $115,000! The NYC Marathon is an excellent opportunity for AFOBIS to raise funds to support the innovative treatment programs at Beit Issie Shapiro in Israel.
Every year parents of children with severe disabilities bring their children to Beit Issie Shapiro in Ra'anana. They arrive feeling alone, often afraid and always uncertain and anxious about their children's future. They come to Beit Issie because of the organization's reputation throughout Israel as a center of excellence that unlocks the world to these children focusing on their ability and potential.
These parents know their children will receive the most cutting edge treatments and therapies because Beit Issie Shapiro is the leader in innovation of programs, services, therapies and training that improve the lives of children with disabilities in Israel.
Please contact the AFOBIS office in New York for further information at info@afobis.org or 212 -586-2464