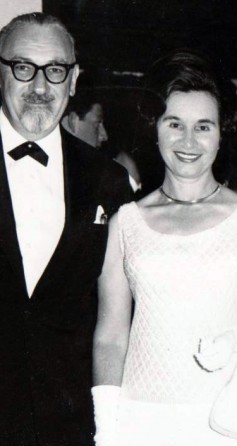 HISTORY
REMEMBERING ISSIE SHAPIRO
Issie Shapiro was a humble and deeply religious man. Growing up in Johannesburg, South Africa. He believed the principles of the Torah provided structure to his life and the lives of those close to him.
His kindness, wisdom and love extended to his family, fellow man and community. His calling to the law profession was a testimony to his belief in justice and equality for all. The personal trauma of a dear friend (who had a daughter with a severe  intellectual disability) was deeply meaningful to him and pre-empted a lifetime devotion to improving their lives.
Issie Shapiro's belief that 'all people have the right to attain full human potential and dignity' channeled his energy into the establishment of the "Selwyn Segal Hostel" and "Avril Elizabeth Home" in South Africa: compassionate, progressive sanctuaries for those with special needs.
The opportunity to further extend this goodwill presented itself many years later, when, together with his wife (Lucie) and 3 children (Max, Esther and Naomi) he made aliya to Israel. Here, with renewed vigor, he sought to contribute the knowledge he'd gleaned in South Africa and share his vision with the community in Israel. Tragically, whilst on a fundraising mission in the United States, Issie Shapiro passed away. It is no co-incidence that he died as he wanted to live – helping others. In the shadow of his vision and this dream, Beit Issie Shapiro was born.
His family, inspired by his passion, love and kindness and directed by his youngest daughter, Naomi (a trained community social worker) took upon themselves to fulfill their father's mission. In 1980 Amutat Avi – a non-profit organization was founded, and in 1981 it opened its doors. Since this time the organization has made many significant achievements, changing the way in which the Israeli community relates to and serves those with special needs.
Pioneers and Catalysts for Social Change
Beit Issie Shapiro has taken the lead in developing a wide range of services in Israel, and has acted as a catalyst for positive social change.
New Services and Treatments Pioneered by Beit Issie Shapiro
1981 First therapeutic daycare service for children with severe intellectual disabilities
1981 First Early Intervention Center providing a head-start for for young children
1982 First Ambulatory Treatment Clinic for children with mild developmental disabilities
1989 Established the first Dental exclusively serving people with developmental disabilities
1992 Opened a Therapeutic Swimming and Recreation Center gaining recognition for hydrotherapy as a treatment  method
1993 Opened the first Snoezelen – Controlled Multi-sensory Rroom – in Israel – has subsequently spearheaded the establishment of Snoezelen facilities and the training of therapists in over 300 centers
1994 established a Research and Evaluation Unit – 1996 – unique for a service organization.
1995 First "inclusion program" for children with moderate to severe  intellectual disabilities
1995 First Family Guidance and Treatment Clinic exclusively for families of children with special needs
1999 Opened a Sport and Recreation Center to promote fitness and promote good health
2001 Opened the Kalansua Early Intervention Center for Arab children — the first comprehensive therapeutic daycare service for Arab children
2005 Opened Park Chaverim – Friendship Park – the first integrated and accessible park in Israel
2007 Opened new extended and renovated campus to host a growing range of services and people served.
2008 Launched support services programs in the north and south of Israel with JDC and Ashalim.
2009 Opened first course in Israel for training therapists in the "Snoezelen" method.
New State-of-Art Campus for Beit Issie Shapiro
After a year of building renovations and expansions, Beit Issie Shapiro's re-vamped campus is fully operational. The children are in their new Early Intervention Center, our Dental Clinic with its 'Snoezelened' surgery is making treatment without sedation easier, and all facilities are brighter, roomier and more ergonomic.
"It's been a huge investment," says Jean Judes, Executive Director, "but we had to do it. Our facilities were cramped and no longer met the high standards we set ourselves. Since we now function as a demonstration and teaching Center, it is essential that our facilities reflect the knowledge and experience gained."
When Beit Issie Shapiro was established in 1981, it was a small organization with limited objectives. Over the years the services have expanded, with greater numbers of people receiving diverse treatment. The building has had to be continually stretched and remodeled to accommodate to changing needs. In the mid 1990's, the Trump International Institute of Continuing Education in Developmental Disabilities was established to provide training and skills enrichment opportunities for professionals working in the field. From this time the therapeutic facilities of the organization served a double purpose – not only for treatment, but to serve as a blueprint for the establishment and operation of services.
Today Beit Issie Shapiro provides a great many different services under one roof. This necessitated an extensive re-building and remodeling program. The main consideration was to expand and improve our Early Intervention facilities and accommodate new services. To accomplish this, we also had to relocate our administrative offices.
We thank all our friends and donors for investing in us and making the beautiful new campus possible!